HOW TO USE SLIM CERA
Roll towards even more beautiful skin in just 3 minutes...
Roll three minutes each time, three times daily.
Use even in the shower or bath.
Effective after washing your face as well as before applying facial creams
A gentle rolling motion is all that is required.
A gentle and pleasant roll is all that's needed.
5 UNDULATING ROLLERS
The rollers of the head on each end roll have a slightly more powerful effect due to the magnetic ceramic material used. This applies the proper amount of pressure to effectively stimulate 'beauty points' and facial muscles.
EFFECTS
Facial definition is dull and the skin is a pale red
Facial definition is clear and the skin has more life.
Firms and tightens your skin for a rejuvenated look and feel!
Skin moisture and elasticity test results using the cosmetic sensor Triplesense Equipment used: Skin Counseling System Triplesense TR-3, made by Moritex
An increase in moisture & elasticity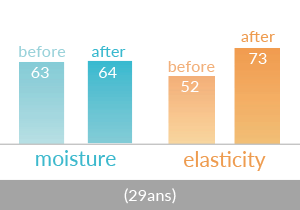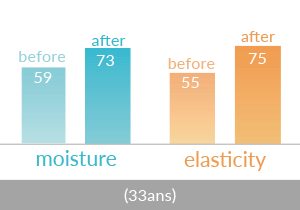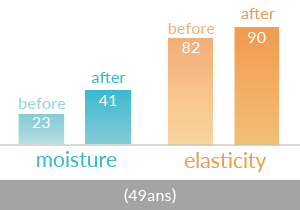 Results will vary. The condition of your skin after using the Slim Cera will last for a couple of hours. Continuous use of the Slim Cera will rejuvenate and stimulate your face leading to more beautiful skin.
FAQ
Can I use Slim Cera for a long time every day ?
For the first time, roll Slim Cera three minutes each time and three times per day on the entire face. After your skin seems accustomed to Slim Cera, you may gradually increase the length of time and number of times you use it.
Is my face the only place where I can use it?
No, you can use Slim Cera on other parts of your body including your neck, your neckline, the back of the your hands, the inner side of your upper arm, around your stomach, behind your knees and on your calves. You can use it on your whole body. Don't press too strongly, nor use it too long on the sensitive parts. You can also use Slim Cera while applying lotion or cosmetics and with soap in the bath.
Can I use Slim Cera while wearing make-up?
Yes. Since the molecules of make-up foundation are very large, there is no risk that they will penetrate into the skin.
What is more efficient? Using Slim Cera before or after applying lotion or cosmetics?
Both are very efficient. However, as lotions or cosmetics sometimes contain vitamin C which has a high rate of acidity, the surface of Slim Cera might be damaged. We suggest that you wash it with cold or tepid water after such usage.
Can I use it in the bath?
Yes, Slim Cera is made from water resistant material. You can use it with facial or body soap. After use, do not store Slim Cera in a humid place because the surface of Slim Cera may be damaged and the plate of germanium inside the handle could come loose. Wipe Slim Cera carefully with a towel and store it in a dry place.
How long is the ceramics of the roller efficient?
The ceramics do not alter; the roller will be efficient for a long time.
I have a sensitive skin can I use Slim Cera in complete safety?
The roller is made from a material with little impact on skin. We counsel you however to test it on a part of your skin not in evidence such as the inner side of your upper arm. Ask then for advice to a physician.
Should Slim Cera be rolled in a certain direction?
No. It is up to you to determine the direction that suits you the best.
Care Instructions
This product is made of stainless steel so it will not rust. Wash with warm water when needed. Dry gently with a towel. Lotions, creams, oils can be washed off with body soap and light brushing with a toothbrush.